Islands pilot waste recycling scheme launched
March 31, 2013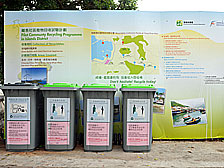 The Environmental Protection Department launched a pilot waste recycling programme in Islands District and placed specialised recycling bins for glass bottles and waste electrical and electronic equipment at new collection points in five areas in Islands District in March.
Recycling bins were placed at 13 collection points in Cheung Chau, Peng Chau, Yung Shu Wan and Sok Kwu Wan on Lamma Island and Mui Wo on Lantau Island. Bulky used electrical appliances can also be placed in reserved spaces beside the recycle bins.
In collaboration with the Islands District Office and the Food & Environmental Hygiene Department, under the pilot scheme, glass bottles and waste electrical and electronic equipment are collected at the designated points every day and delivered to refuse transfer facilities on the islands. The Environmental Protection Department then assists in arranging the recyclables for proper treatment.
The glass bottles collected will be turned into eco-pavers by local recycling companies for use in suitable works projects. The waste electrical and electronic equipment will be treated at the recycling centre in EcoPark and donated to those in need after checks and repairs.
Items beyond repair will be dismantled and their components and materials recovered for reuse and recycling.
The pilot scheme will run for a year and the department will monitor its effectiveness.
Click
here
or call 2838 3111 for details.
Photo:
Go green:
Collection points for glass bottles and waste electrical and electronic equipment have been set up to encourage local residents and shop operators to participate in recycling.
Source: