Stakeholders exchange views at engagement session on promoting development of recycling industry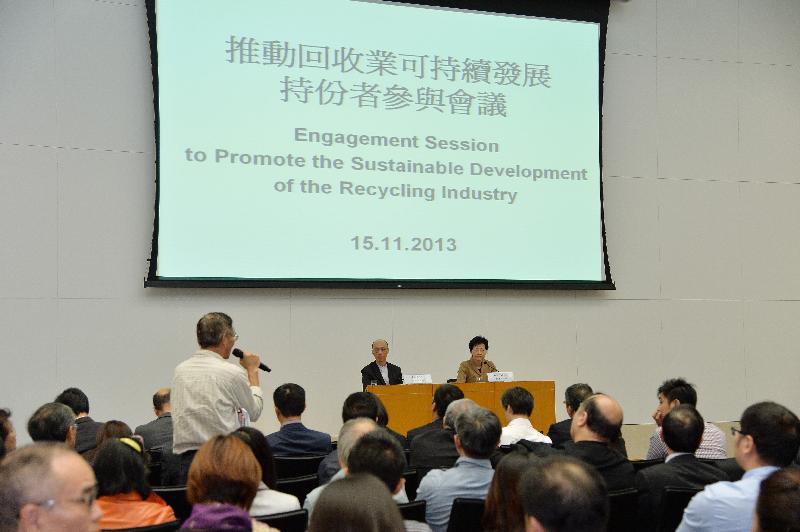 *********************************************************
The Chief Secretary for Administration, Mrs Carrie Lam, today (November 15) chaired an engagement session to promote the sustainable development of the recycling industry. The Secretary for the Environment, Mr Wong Kam-sing, and members of the Steering Committee to Promote the Sustainable Development of the Recycling Industry also attended.

Mrs Lam said that the engagement session facilitated the exchange of views between the Government and relevant stakeholders in the recycling industry. Valuable views on how to promote the sustainable development of the local recycling industry and the support required were gathered at the meeting.

Participants of this engagement session included the Environment Bureau and representatives of relevant bureaux and departments, the recycling industry, green groups, non-governmental organisations, community organisations, academia and relevant committees, as well as representatives of the Legislative Council and District Councils. Participants had a good discussion on the current operations of the local recycling industry, difficulties encountered by the trade and possible support measures which could be provided by the Government.

In response to "Hong Kong: Blueprint for Sustainable Use of Resources 2013-2022", which sets out the objective of further reducing the local waste disposal rate, the Government established the Steering Committee led by the Chief Secretary for Administration in August 2013. It aims to strengthen collaboration among the relevant bureaux and departments on different aspects of waste reduction at source and to enhance efforts to promote the development of the local recycling industry.

The Steering Committee is currently liaising with relevant bureaux and departments to explore policies and measures to promote the sustainable development of the recycling industry. Initiatives under consideration include the arrangements for the Short Term Tenancy Sites and Public Cargo Working Areas and the feasibility of setting up a "Recycling Fund", as well as ways to provide appropriate support measures to the recycling industry. In addition, the Steering Committee will explore means to foster community support in recycling through public education and community involvement projects, and to promote training and development of the workforce.

The Government will consolidate the views collected at the engagement session and further explore different ways to promote the sustainable development of the recycling industry. In the next few months, the Government will liaise with the recycling trade and relevant stakeholders according to different categories of recyclables, with a view to gaining a better understanding of the operations concerning different types of recyclables and exploring the most suitable support measures for each of them.
Ends/Friday, November 15, 2013
Issued at HKT 17:39