More glass collection points set up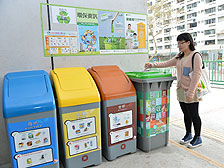 Network expands:
Glass bottle recycling bins are set up at private housing estates, public rental housing estates and schools to encourage people to pitch in.
The Environmental Protection Department has set up glass bottle collection points at 60 housing estates and 32 primary and secondary schools since last November to encourage people to recycle waste glass bottles.
With these new collection points, glass bottle collection is available to 24% of the population. The number of residential collection points has increased to 321.
The department will continue to expand the glass recycling network with a target of 50% population coverage by the end of this year.