Green goal for HK Sevens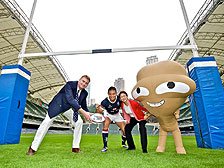 On the ball: The Rugby Football Union's Robbie McRobbie, Hong Kong Men's National Sevens Team player Kwok Ka-chun, Under Secretary for the Environment Christine Loh and Big Waster promote an environmentally-friendly Sevens.
March 20, 2014
The Environmental Protection Department and Rugby Football Union today announced a new collaboration with key stakeholders of the Hong Kong Sevens 2014, to trial a number of green initiatives.
Hong Kong's annual three-day rugby extravaganza will kick off on March 28 at the Hong Kong Stadium.
The department will work with the Leisure & Cultural Services Department to provide bins to collect plastic bottles and beverage cups at the venue, and posters will be displayed to guide people to the right bins.
Donation of surplus food, and separation and collection of other types of recyclables such as food waste, glass bottles and paper for recycling will also be arranged.
The Food Wise Hong Kong Campaign mascot Big Waster will appear with the event's Green Ambassadors to promote the measures.
The trial practices will prepare the way for the formation of a task force to devise a more comprehensive waste reduction and recycling plan next year.
source from:
http://www.news.gov.hk/en/categories/environment/html/2014/03/20140320_183753.shtml