Air Quality Health Index to be launched on December 30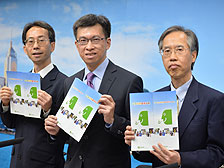 ************************************************************
The Environmental Protection Department (EPD) will launch on December 30 this year a new air pollution information system, the Air Quality Health Index (AQHI). The new system will replace the existing Air Pollution Index and communicate the health effects of air pollution more effectively.

At a press conference on the AQHI today (December 6), Deputy Director of Environmental Protection, Mr Andrew Lai said, "The AQHI is a health risk-based index that estimates the short-term health risk caused by air pollution and provides more timely and useful air pollution information to the public."

The AQHI is reported on a scale of 1 to 10 and 10+, and is grouped into five health risk categories, i.e. low, moderate, high, very high and serious. It also provides different health advice for people with different degrees of susceptibility to air pollution.

It is calculated based on the cumulative health risk attributable to the three-hour moving average concentrations of four air pollutants, namely ozone, nitrogen dioxide, sulphur dioxide and particulate matter (PM2.5 and PM10).

"The AQHI forecast also serves as an alert to the public before the onset of serious air pollution episodes and help the public to consider taking precautionary measures to protect their health as necessary," Mr Lai said.

To facilitate timely and effective dissemination of AQHI information, the EPD has also developed a dedicated AQHI mobile application, "HK AQHI", with features such as customised filters on AQHI information by district, risk categories and an alert system for smartphone users.

To allow interested parties to familiarise themselves with the new system earlier, the EPD will start a trial run of the AQHI on December 23, one week before the launch. The trial run will release the AQHI readings at a few air quality monitoring stations on the new AQHI website (www.aqhi.gov.hk).

The EPD has also produced leaflets and posters on the AQHI, which are now available at public libraries, public hospitals, sports venues, public enquiry service centres of the Home Affairs Department, and environmental resources centres and regional offices of the EPD.
Ends/Friday, December 6, 2013
Issued at HKT 13:19