KS Wong visits Sweden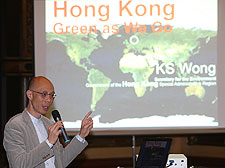 Going green: Secretary for the Environment KS Wong speaks at a luncheon, introducing Hong Kong's environmental policies and works.
March 08, 2014
Secretary for the Environment KS Wong met officials and visited waste-management facilities in Sweden yesterday.
He toured a waste-to-energy plant in Malmö, which uses moving grate technology to treat 1,500 tonnes of waste per day and generate heat and electricity for neighboring areas.
Mr Wong also addressed a luncheon meeting and exchanged views with local officials on waste management policies and infrastructure, before departing for Hong Kong in the afternoon.
source from:
http://www.news.gov.hk/en/categories/environment/html/2014/03/20140308_092243.shtml