UN: greenhouse gas emissions nearly doubled in first decade of 21st century
Leaked draft shows emissions grew nearly twice as fast from 2000-10 as in previous 30 years – despite economic slowdown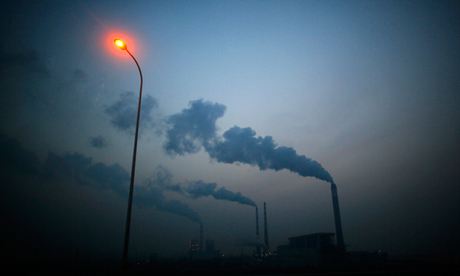 "Global GHG [greenhouse gas] emissions have risen more rapidly between 2000 and 2010," said the draft obtained by the Guardian. "Current GHG emissions trends are at the high end of projected levels for the last decade."
The draft went on to warn that delaying emissions cuts beyond 2030 would make it harder to avoid the severe consequences of climate change.
Leading scientists and government officials are in Berlin this week to approve the exact wording of the report before it is formally released on 13 July.
The IPCC report is the third part of a trilogy intended to serve as the definitive account of climate change.
This third part was supposed to be focused on solutions. Instead, the report made increasingly clear the large and growing gap in the scale of the threat and the readiness of those solutions.
The draft said emissions grew 2.2% a year on average between 2000 and 2010, compared to 1.3% a year over the entire period from 1970-2010. In 2010-11, global emissions from the burning of fossil fuels grew 3%, the draft went on.
The rapid growth in emissions has defied efforts by governments to deal with climate change, and even though the historic recession saw some slowdown it was eventually reduced to a blip in the continuous upward path.
"The global economic crisis 2007-08 has temporarily reduced emissions but not changed the trend," the draft said.
The culprit for the upward line on the graph was coal, the draft said. The decade saw a big jump in the number of new coal-burning power plants that came online.
Coal plants are the most polluting of all power stations, and there are more than 1,000 new plants under construction worldwide.
Most of those are earmarked for China and India – although the report pointed out that many of those power plants are supplying factories making goods whose ultimate destination is America or Europe.
Other developing countries have also stepped up their use of coal. Germany, Britain and France have also been burning coal, because of low worldwide prices.
But their consumption pales beside China, which on its own accounts for about 15% of total global emissions from coal. The expansion of coal-fired power plants – China gets two-thirds of its electricity from coal – have polluted the air and the water.
A recent World Bank study estimated 750,000 people died in China every year as a result of air pollution, in large part because of the burning of coal.
source from: http://www.theguardian.com/environment/2014/apr/11/un-greenhouse-gas-emissions-doubled-decade-ipcc-report