IPCC report: world must urgently switch to clean sources of energy UN panel's third report explains how global dependence on fossil fuels must end in order to avoid catastrophic climate change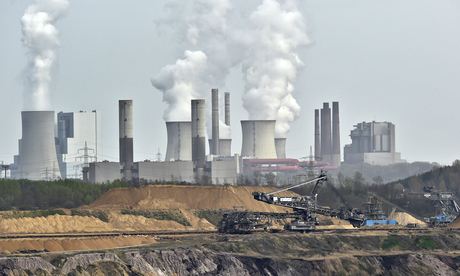 The report produced by hundreds of experts and backed by almost 200 world governments, will detail the dramatic transformation required of the entire globe's power system, including ending centuries of coal, oil and gas supremacy.
There is heavy emphasis on renewable energy, such as wind and solar power, and cutting energy waste, which together need hundreds of billions of dollars of investment a year.
But despite the scale of the challenge, the draft report is upbeat: "Since [2007], many renewable energy technologies have substantially advanced in terms of performance and cost and a growing number have achieved technical and economic maturity, making renewable energy a fast growing category in energy supply," the report says.
It also highlights that the benefits of clean energy, particularly in reducing deadly air pollution and providing secure energy supplies, "outweigh the adverse side effects". The IPCC report is the last part of a trilogy compiled by thousands of the world's most eminent scientists which gives the most definitive account of climate change to date.
The report will address how to avert the worst dangers by cutting carbon emissions, which have been rising despite the global recession of 2007-08.
Nuclear power is cited among the low-carbon energy sources needed, but the draft report warns it "has been declining since 1993" and faces concerns about "safety, nuclear weapon proliferation risks, waste management security as well as financial and regulatory risks".
Another way to produce low-carbon energy is to burn fossil fuels but capture and bury the carbon emissions.
The IPCC experts note that, unlike renewable energy, this technology "has not yet been applied at a large, commercial scale".
The draft report concludes that increasing carbon emissions are due to rising coal use, along with increasing demand for energy from the world's growing population. But it notes that policies implemented to cut carbon emissions will also cut the value of fossil fuel reserves, particularly for coal. It also says increased use of gas could cut emissions in the "short term", if it replaces coal.
Li said: "We stand at a fork in road. One way leads to more dependence on dwindling fossil fuels that are wrecking our climate and damaging our health; the other to a world powered by a booming clean energy sector that is already driving growth and creating jobs. The sooner we act, the cheaper it will be."
source from: http://www.theguardian.com/environment/2014/apr/12/ipcc-report-world-must-switch-clean-sources-energy